GOUT-CH!

Gout – An OUCH-worthy condition! Read for recommended lifestyle and diet tips to keep gout at bay.
---
Do you know? Gout was historically referred to as "the disease of kings"? This was because it was then understood that gout pain was caused by regular excessive consumption of "expensive" foods like red meats and seafood and typically affected wealthier older men in their 40s and 50s.

Today, Gout can affect even young adults in their 20s and 30s. The likelihood increases with regular consumption of a high protein diet, excessive alcohol intake and sometimes coupled with the lack of water intake.1
Keep reading to find out more about this painful joint condition, the common symptoms associated with Gout as well as recommended lifestyle and diet tips to keep gout at bay.
What is Gout?
Gout is a form of inflammatory arthritis that is very painful. It usually affects one joint at a time (usually the big toe) and a gout attack/flare up can last for days or weeks. Repeated bouts of gout can lead to gouty arthritis, a worsening form of arthritis.2
Gout is caused by an excess presence of uric acid in the body. Uric acid is produced by our body when it breaks down purines which are found in the body and from our intake of purine-rich foods. When there is an excess of uric acid in the body, uric acid crystals can build up around joints causing joint inflammation and making it very painful with any movement of the affected joint.
Common Symptoms

Some common gout symptoms include redness and swelling in joints. Often sudden and severe, it typically affects the joint of big toe but can also affect other joints. The affected area almost feels like it is on fire and is swollen and warm to the touch. Gout pain also occurs most frequently at night.
Gout Risk Factors

Uric acid is produced when the body breaks down purines, which are found in food such as meat, poultry, seafood, sugary drinks and alcohol, especially beer. Therefore, people who frequently consume a high protein, alcohol and sugar diet tend to be at a higher risk of Gout attacks.

Diet aside, factors such as having a family history of Gout, preexisting medical conditions such as hypertension and obesity can also play a role in increasing the risk of gout. Men generally have a higher gout risk as compared to women as they tend to have higher uric acid levels than women.3
Tips to Protect Against Gout

Though we can't change our genetic or gender predispositions to protect against Gout, we can manage lifestyle and dietary factors to proactively alleviate gout and arthritis symptoms.
Watch your diet

A big part of protecting against Gout is through your diet. Maintaining a balanced diet that is low in purine is the key when it comes to lowering your risk of a Gout attack.

As uric acid is a by-product that results from the consumption of high purine foods, it is a definitely a good idea to cut down on purine-rich foods such as meat, fish and sugary beverages as much as possible. Refined carbs such as white bread, cakes and cookies should also be avoided as they are low in nutrients and may contribute towards an increase in uric acid levels.

This does not mean to avoid them completely but to consume these foods in moderation, and ensure that you drink adequate amounts of water.

Whenever possible, you should opt for low-purine foods in your daily diet - such as fruits and vegetables, eggs, whole grains and dairy products. The use of herbs and spices to flavor foods are generally safe for persons with Gout.4
Limit your alcohol intake

Alcohol is a common trigger for Gout attack because it hinders the removal of uric acid from the body. When you drink alcohol, your body prioritizes the removal of the alcohol over removing uric acid; this leads to the accumulation and formation of uric acid crystals overtime.5 Cutting down on alcoholic drinks or practicing complete abstinence can help to avoid future flare ups.
Stay hydrated

8 glasses of plain water a day is the minimum rule of thumb. During a gout flare-up, consider increasing your intake of plain water to help flush excess uric acid from your system.6
Lose Weight
Maintaining a healthy weight is important as excess weight can increase risk of Gout attacks by increasing your insulin resistance. Insulin resistance means that the body is not able to use insulin properly to remove sugar from the blood leading to high uric acid levels.
4
However, it is also important to avoid crash dieting as rapid weight loss can also increase the risk of Gout attacks.
Exercise Regularly
Regular exercise not only helps to maintain healthy weight but it also helps keep uric acid levels low. During a gout attack and for those who suffer from chronic gout condition, exercise can be challenging in the face of pain. After the gout flare up subsides, you can consider gradually incorporate exercises that do not impose much stress on joints. Such exercise can include brisk walking and swimming. The recommended amount of moderate physical activity is 150 minutes a week.


Even though there is no current "cure" for gout, there's no reason to be disheartened. Keeping to a healthy diet that is low in purines and making healthy lifestyle choices can help you manage your gout risks in the long term. You can also consider supplements to help your body be more efficient in removing excess uric acid and relieve joint discomfort .
References
1 https://cnalifestyle.channelnewsasia.com/wellness/gout-why-younger-singaporeans-getting-painful-form-arthritis-11302500
2 https://www.cdc.gov/arthritis/basics/gout.html
3 https://www.mayoclinic.org/diseases-conditions/gout/symptoms-causes/syc-20372897
4 https://www.healthline.com/nutrition/best-diet-for-gout#TOC_TITLE_HDR_5
5 https://www.healthline.com/nutrition/best-diet-for-gout#TOC_TITLE_HDR_7
6 https://pubmed.ncbi.nlm.nih.gov/15604613/
You may also like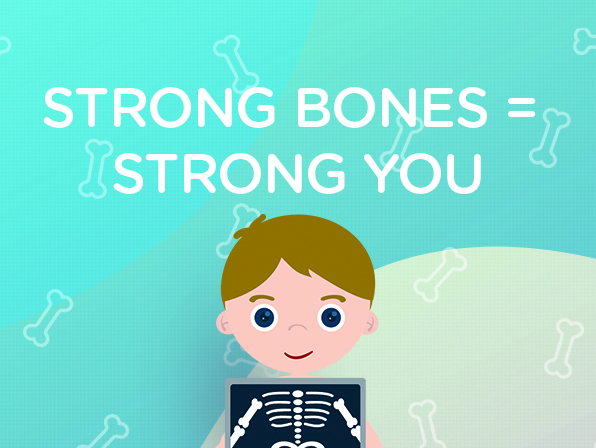 Make No Bones About It
Do you know? Bones need more than just calcium to stay strong.
Specially Selected For You